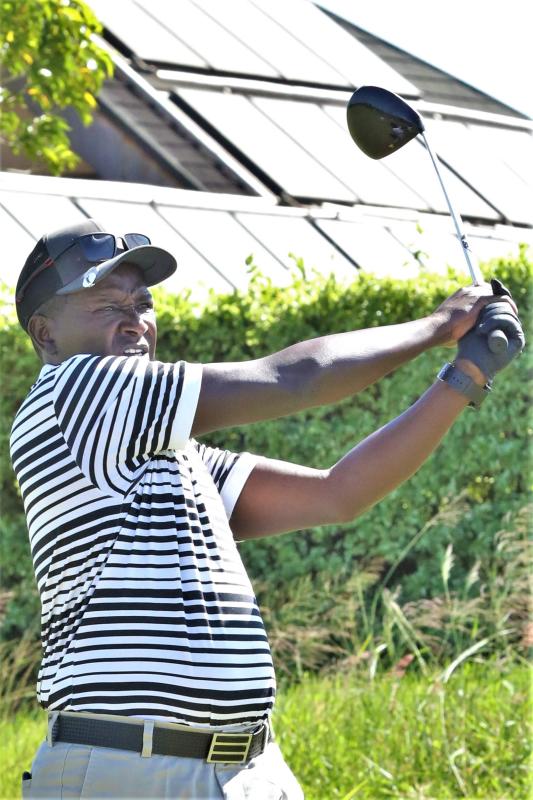 Handicap 15 claims title on a compact score of 40 points to triumph in Ruiru.
Home boy Josphat Mbugua trudged through the tough playing Ruiru Sports Club to lift ICEA King of the Course title over the weekend.
Playing off handicap 15, Mbugua savoured victory during the meet presented by financial services solutions provider ICEA Lion Group General Insurance with a score of 40 stableford points.
Mbugua became the third winner in the third leg of the nine-event series, which began last week in Machakos. The series heads up to Nanyuki Sports Club for the fourth leg next weekend.
On Friday, the super long Thika Greens Sports Club, which tilts 6,990 yards off the white tees, hosted ICEA King of the Course Clubnite tournament that was graced by 98 golfers.
The 2020 King of the Course tournament at Ruiru Sports Club saw a field of 274 golfers participate.
Despite erratic bounces due to tough conditions occasioned by the dryness of the course, Mbugua relied on his home course advantage by playing early.
He made a birdie, five pars and three bogeys on his front nine for a score of 21 stableford points before collapsing on his back nine from where he picked three pars, five bogeys and scratched the 18th hole; a par five, for an additional 19 stableford points.
Earlier on Friday at the curtain raiser Clubnite, handicap 29 Chris Lumbasio of Thika Sports Club bagged the top prize on a score of 43 stableford points.
Jamleck Kamau, playing off handicap 11 and on a score of 39 stableford points, won the Member winner prize.
Handicap 27 Elizabeth Ngethe donned the Ladies gong with 37 stableford points while Rachel Ndei settled for lady winner second on a score of 36 stableford points.
At the par-72 Ruiru course, handicap 19 Erastus Thoronjo won the Men winner prize after returning 39 stableford points.
Handicap 20 J Muraguri, on a score of 38 stableford points, was Men winner second after edging out Men winner third Mike Nyangi, who had a similar score of 38 stableford points.
Handicap 31 Salome Mwaura won Lady winner prize on a score of 39 stableford points, while handicap 31 Lucy Mwangi was Lady winner second. Ruth Kamau, playing off handicap 14, was lady winner third.
In the commercials, First Nine winner was handicap 19 JK Maigua with 23 stableford points as handicap 25 E Kariuki won Second Nine prize with 22 stableford points.
First Nine Lady winner prize went to a handicap 29, Jane Kimere, who had 22 stableford points, while Second Nine lady winner was Margaret Muriu with 19 stableford points. 
Best male Guest golfer was Henry Kamuti, playing off handicap 26, after returning a score of 39 stableford points, ahead of Guest winner second handicap 12, Anthony Maina.
Machakos Sports Clubs' handicap 20 Susan Musyoka won Guest Lady prize with 29 stableford points.
Handicap 26 Elizabeth Ngethe, on a score of 32 stableford points, emerged the Sponsor winner, with handicap 28 Peter Mukuria taking Sponsor winner Second prize on a score of 27 stableford points.
A record 35 twos were registered during the meet played under clear blue skies.