Kenyan Veteran Journalist Leonard Mambo Mbotela has appealed for compensation for the key role he played during the 1982 attempted coup.
Speaking to Kenyans.co.ke the renowned journalist said he underwent mental anguish during the 1982 coup attempt when he was picked from his house and forced to announce a military takeover on national radio. 
"I have been wondering how comes no one compensated me and the way I suffered in that studio. Nobody has approached me on that issue. I played a key role during the 1982 coup and I believe I should be compensated, financially." expressed Mbotela.
Radio Personality Leonard Mambo Mbotela during a past interview.
Facebook
The legendary broadcaster voiced his appeal for the first time during an interview on Churchill show hosted by comedian Daniel Ndambuki alias Churchill.
During the show, Mbotela narrated how he risked his life when he was forcefully made to participate in the attempted coup.
"It was a risky assignment and I would even have lost my life," he said.
According to Mbotela, he was picked from his home in Nairobi in the wee hours of the night by a section of Kenya Air force officers who wanted to overthrow the Moi government.
Mbotela was taken to Kenya Broadcasting Corporation (KBC) which was previously known as Voice of Kenya which was the national broadcaster.
At VoK, he was coerced to announce that a senior Airforce officer, Hezekiah Ochuka would be the new head of state after overthrowing the late former president Daniel Moi.
"Ochuka also asked me to announce that all citizens to remain at home and all policemen in the country were civilians. I had no choice but to comply," said Mbotela.
The 1982 attempted coup did not go through as planned after army officers intervened and successfully thwarted the attempted coup.
"The then head of army Gen. Mahmoud came to the studio and demanded I announce he had crushed the coup plotters by officers loyal to Moi. Days later I was taken to the Court Martial and asked to defend myself over the role I played in the coup. I was acquitted."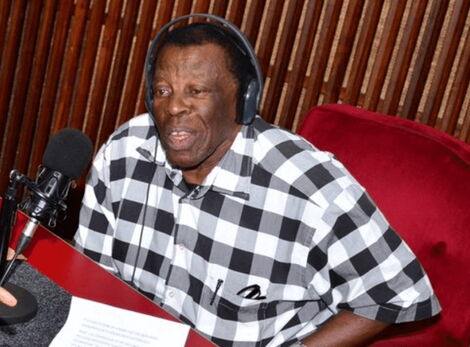 Veteran Journalist Leonard Mbotela during a Broadcast
File