Deputy President William Ruto on Saturday, November 28, doubled down on his apparent u-turn on the Building Bridges Initiative (BBI) proposals.
In a statement, the DP stated that his growing support of various sections of the BBI process was based on his job description as the second in command.
"I have a constitutional duty to assist my boss, the President. We have made improvements to BBI report after the Bomas event," he stated.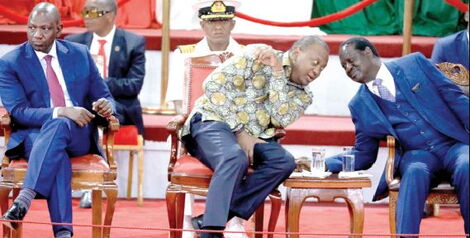 President Uhuru Kenyatta (centre) with Deputy President William Ruto (left) and Opposition leader Raila Odinga during the launch of the BBI report at the Bomas of Kenya, Nairobi on November 27, 2020
YouTube
He noted that the goal should be to get a consensus for Kenyans to have real choices to decide on
"We need to avoid yes/no, all/nothing division. We avoided lose-lose we can overcome win-lose to achieve win-win," he added.
He further noted that he had received overwhelming feedback from Kenyans following his comment showing his support for amendments made.
He opined that a divisive referendum was what some political players were pushing for, accusing some unnamed individuals of working hard to frustrate consensus.  
In an unprecedented move, Ruto praised the introduction of a minor section of the Constitution Amendment Bill that was launched at the KICC for the signature collection phase. 
In a tweet on Friday, November 27, the deputy president welcomed the proposed enforcement of the shared economic values into the final Constitution Amendment Bill 2020.
The proposed amendment recognises the need for an economic system that provides equitable opportunities for everyone to benefit from economic growth in a comprehensive, fair and sustainable manner.
The statement has been interpreted as the DP warming up to a process which he has in the past two years been opposed to.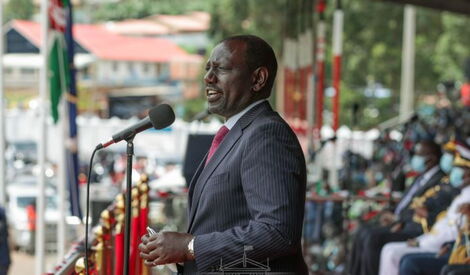 DP William Ruto address at Gusii Stadium, Kisii County on October 20, 2020.
PSCU