For over six decades, the MV Uhuru and MV Umoja were two of the ships that operated between Kenya, Uganda and Tanzania, until 2006 when operations at the Kisumu Port collapsed.  
But the restoration of the port came to life after President Uhuru Kenyatta ordered the refurbishment of the Ksh 3 billion Kisumu Port and with it, the repair of MV Uhuru as part of the port's facelift which had started in 2009.  
MV Uhuru was built in 1965 and has prevailed the waves of Lake Victoria ferrying thousands of East Africans and tonnes of goods, boosting trade between the three neighbors.
Its refurbishment cost approximately Ksh 30 million and was undertaken by Kenya Navy and Kenya Railways engineers.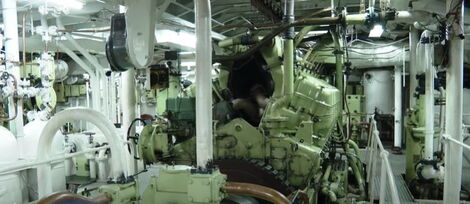 Inside MV Uhuru, a cargo vessel at Ksh 3 billion refurbished Kisumu Port
YouTube
The vessel makes almost Ksh2 million in one round trip and can make up to Ksh 17 million per month. It has already made over 27 voyages since it was repaired.
Former Kisumu Port Manager Mwalimu Disi oversees the running of the vessel and works closely with 23 technical staff. Most of the employees, who have had worked at the port for years, were recalled when the port was resurrected.  
Peter Malale, the Senior Engineer for MV Uhuru stated that he started working at the vessel in 1992 before he was sent home alongside other colleagues.
Captain Fredrick Osoro also worked at the vessel since 1988. Women are also serving in different capacities, from Second Officers to engineers. 
The vessel transports cargo, mostly fuel which transporters usually ferry through the road network. Transportation via the sea reduces traffic on roads and also saves on infrastructure, cost and security.
Other infrastructure projects that have been revived include a section of the 217-kilometer Nakuru-Kisumu railway track which links Kenya Pipeline's 45 million litre-capacity Kisumu depot and the port. This was rehabilitated by the National Youth Service. 
This makes it easier to transport cargo to the port to be ferried by MV Uhuru. 
A police station was also established at the port to protect goods and machinery. 
On Friday, October 2, Kisumu Governor Anyang' Nyong'o confirmed that the port was almost ready to be opened by President Uhuru Kenyatta and ODM leader Raila Odinga. 
Captains at work on MV Uhuru at Kisumu Port
YouTube
A photo of Ksh 3 billion Kisumu Port in Kisumu County
File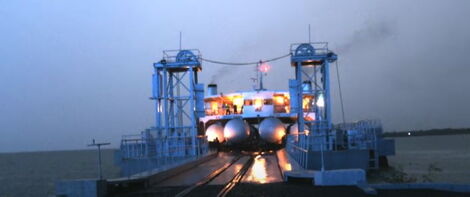 MV Uhuru pictured before proceeding on a voyage from Kisumu Port
YouTube