Former K24 TV anchor Isabella Kituri opened up for the first time about the role her former boss played in getting her back to her feet after she lost her husband to cancer.
While appearing on NTV's Unscripted with Grace on Saturday, February 27, the BBC journalist recounted how she hit rock bottom, so much that she never left her bed as she was grieving – deeply.
She narrated how her former boss, Faridah Karoney, who worked as Royal Media Services Chief Operating Officer (COO) at the time, took matters into her own hands, and visited Kituri at her home, and got her out of bed, a bed she never wanted to leave.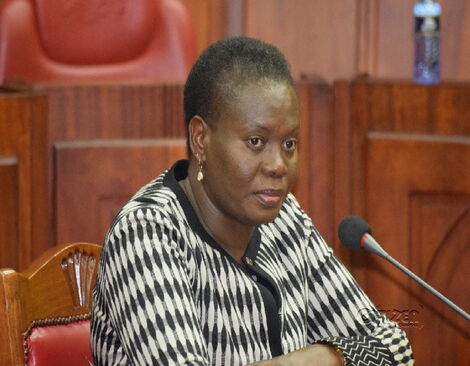 Lands CS Farida Karoney during her vetting process at parliament buildings in February 2018
Daily Nation
"My low moment was 'you wake up, you don't want to see the light. You want to stay in your blanket.' My former boss at the time, Karoney, had to come home.
"(She came to) tell me 'you know what, compassionate leave is over, you will mourn forever, the pain will ease, but it will never end. Get out of this house,'" she narrated.
She noted that as much as she was shocked to see Karoney at her house, she needed the push to get herself back on track.
She narrated that the grieving process took her eight years, through which time she continuously wore  her late husband's wedding ring.
"Loss for everyone is quite tough, that journey (losing the husband) took me eight years… My pastor told me to take off my ring, but it was very hard.
"My husband had a recurring ulcer issue, it got worse and he couldn't eat; little did we know that the insides of his intestines were infected with cancer… The doctor told me that my late husband had only a few days to live," she added.
She encouraged other people to always create a support system which may include friends who would support them in times of grief.
Kituri noted that her own support system was a group of her girlfriends.
The TV anchor, who has worked at Deutche Welle under apprenticeship and Standard Group, joined BBC in 2021 after leaving K24 TV in June 2020.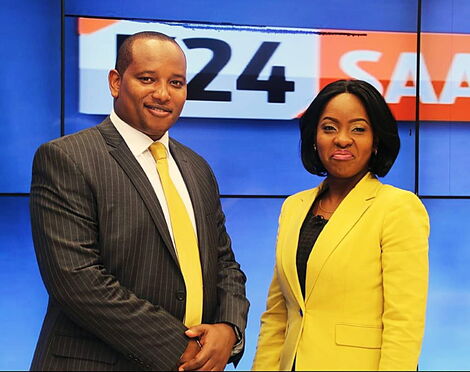 Former K24 TV anchors Franklin Wambugu (left) and Isabella Kituri.
Facebook