The planned auction of the multi-billion Jacaranda Hotel in Nairobi's Westlands area has been cancelled.
The hotel, owned by the family of the late billionaire Njenga Karume, was set to be auctioned on March 12, 2021, over a Ksh250 Million debt.
Karume died in 2012 after battling cancer, leaving behind an estate estimated to be worth around Ksh40 billion among the assets being the Jacaranda Hotel.
A notice by the auctioneers published on Monday, March 1, declared that the selling off of the establishment's assets would not take place as scheduled.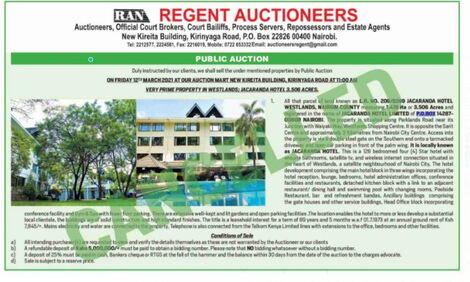 The notice cancelling the planned auction of Jacaranda Hotel in Nairobi.
Twitter
This is the second time the hotel, a 128-roomed facility, has survived an auction, after evading the hammer sometime in 2020.
The facility has been the subject of numerous legal battles between the family and the creditor.
It is reported that the hotel management took the loan and a further overdraft from a bank which is yet to be repaid.
"All intending purchasers are requested to view and verify the details by themselves, a refundable deposit of Ksh5,000,000 must be paid to obtain a bidding number," a notice by the auctioneers for the planned auction had read.
The hotel's management has also had run-ins with the state including a Ksh95 million tax arrears demand from Kenya Revenue Authority.
The hotel located in Westland's areas seats on 3.506 acres piece of land. According to the auction details, the title of the land is a leasehold interest for a term of 89 years and five months. 
The four-star hotel has spacious rooms, expansive bathrooms, satellite TV, and a wireless internet connection situated in the heart of Westlands. 
The hotel also has a poolside restaurant, bar, and refreshment areas ancillary buildings comprising of gatehouses and other service buildings.
Jacaranda Hotel located in Westlands, Nairobi.
Twitter