Kenya's celebrated investigative journalist John Allan Namu has recounted how his infamous NTV exposé on Felicien Kabuga led to his wife being fired. 
While speaking on NTV's Singleton Stories on Sunday, April 11, Namu disclosed that his wife, Sheena Makena, was forced to take a three-month leave after threats against him became rampant.
In 2011, Namu revealed that he had received a tip that Felicien Kabuga, a then wanted criminal in relation to Rwandan Genocide, was living in Kenya.
"We go out and started following his trail picking clues. I go back and share my evidence with my boss. It goes through the editorial committee… Then I start to receive threats, some of my sources have been threatened.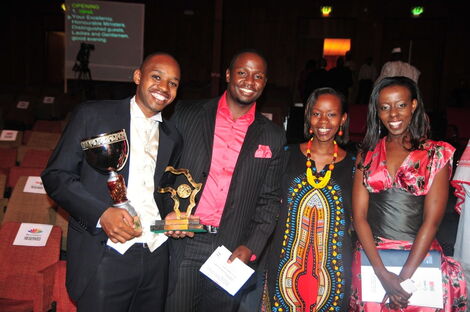 Boniface Mwangi (left) and Allan Namu (center).
File
"For two months while I was doing a story here, my wife and my two children were in the safe house with me. I had to pull them out of kindergarten but my wife had to leave work to take care of them. which was a big deal.
He says that even before the story aired, his sources received threats and he was forced to secure his entire family at a safe as he worked on the story.
"She went on leave for the first month, then unpaid leave for the second month. Just as we were releasing the story, we took off to another country (him and his family). While we were in hiding, she lost her job," he narrated.
After all that pressure, Namu disclosed that he later learnt that they had misreported the identity of the subject of the exposé during a presser hosted by the police at their headquarters.
"Here is this man, wearing the exact same T-shirt that I had in that photograph and it is a businessman from Isiolo. It hit me very hard," he noted.
For his work, however, Namu was featured in a film adapted by Netflix, World's Most Wanted, as an expert on Kabuga – who has since been arrested. 
Namu and Mohammed Ali alliance
During the interview, Namu also revealed that Nyali MP Mohammed Ali, popularly known as Moha Jicho Pevu, attempted to sell shoes on his first day after bagging KTN job.
Namu disclosed that he was a few weeks old at KTN when Ali was brought in as a reporter. He noted that Moha Jicho Pevu tried selling him shoes during one of their earliest interactions.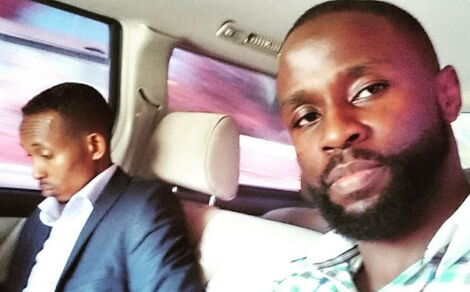 African Uncensored founder John Allan Namu (right) and Nyali MP Mohammed Ali.
Twitter
"Some time in 2006, just slightly after I joined KTN, this young guy, light skinned, Ethiopian-Somali looking, I couldn't quite place it, joins the news room. One of the first days of him being there, he tries to sell me shoes.
"This of course is Mohammed Ali," stated Namu.
He further noted that their friendship would blossom from the encounter and at times, they would collaborate on minor stories together.
"The thing I love about Moha is that he has an instinct for stories and a nose for news like very few journalists that I have ever seen… He is a people person per excellence," he added.
Before Moha, Namu had not seriously considered investigative journalism as a career line and it seemed his bosses were of the same opinion too.
An investigative story opportunity arose in the newsroom and first landed on  Moha's desk who was required to choose a partner.
"He is asked 'who do you want to do it with?' and Moha says me. My boss was like, 'him? No.' He just didn't think I had the chops for it but Moha insisted because he had also seen something in me," he recounted.
They collaborated on a number of stories but their most outstanding came in 2009 that saw them bag awards for their original investigative reports.
Namu achieved more success with his exposés and founded African Uncensored, a media house that produces investigative stories for various media houses across the continent.
Below is the video: