Chief Justice David Maraga has addressed his rocky relationship with President Uhuru Kenyatta during the release of the final State of the Judiciary and Administration of Justice Annual Report 2019/2020.
Speaking on Friday, November 27, Maraga acknowledged that he and the president had differing opinions during his tenure but maintained that he had no disrespect or malice against the head of state.
"It is clear there is a difference of opinion between me and you but I want to assure you and the entire nation, that I have nothing against you. To the contrary years Mr President, I have given you respect as our head of state," he stated.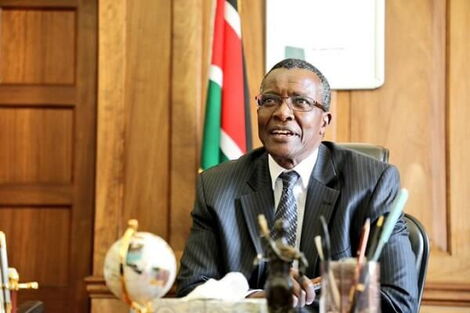 Chief Justice David Maraga pictured in his office in 2019
File
In a rather candid message from one head of a government arm to another, Maraga told President Kenyatta to rely on intelligence services to confirm his neutrality. 
"Why would I want to fight you as some people are suggesting? I am apolitical and I hold no brief for any politician. The security and the intelligence services can assure you of that and I'm sure they already have," Maraga said.
During the bold address, the outgoing CJ accused the president of interfering with the independence of the judiciary by failing to appoint the 40 judges forwarded by the Judicial Service Commission (JSC).
Maraga reiterated that the president had no legal powers to question, reject or cherry-pick names of judges recommended to him by the JSC.
The President, through the Attorney General, has insisted that his role is not just to appoint those approved by the JSC – arguing that he had a right to reject some of the names that are believed to be of questionable moral character.
The courts have twice ruled that the head of state's role is to appoint, without question, judges who have been nominated and vetted by the JSC. 
Maraga claimed that the president could have 'revisited' judiciary matters as he promised, following the annulment of the 2017 Presidential Election.
"It is on the record that the president promised to revisit, and we saw it in the reduction of judiciary budget and that's why the courts countrywide are yet to be completed," he expressed.
"Irregular budget cuts disrupt judicial processes, there was a year when the ICT budget was wholly slashed or their budget not factored in, it is a miracle that we have continued to execute our mandate."
The Chief Justice also expressed gratitude to all those who had helped him throughout his journey as the Chief Justice.
"To my wife, my children and to my larger family, I want you to know that your kind words gave me courage and stamina to soldier on inspite of the challenges I faced," Maraga stated.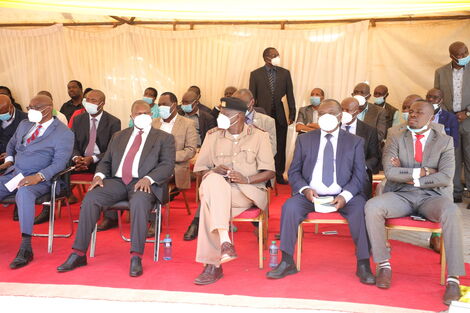 South Mugirango MP Sylvanus Osoro (right) attends Chief Justice David Maraga's event in Kisii County on Friday, October 2, 2020
Twitter