Cyrus Nduhiu, a manager at a local bank, has addressed reports that a fire that burned down two of his cars was caused by a suicide attempt. 
Neighbours and other residents in Imara Daima estate were quick to fuel rumours that Nduhiu's marriage was on the rocks, pushing him to attempt to take his own life.
Addressing the media on Sunday, February 28, 2021, the banker said that the fire broke out on Saturday when he was having lunch with his family.  
Cyrus Nduhiu's cars were burned outside his house in Imara Daima, Nairobi on February 27, 2021
File
"We heard very loud screams outside my home. By the time I came out of the house one of the cars was already completely burnt," said Nduhiu.
He added that the fire was quite big, making it difficult to save the other car as well. Both cars burnt down in about 12 minutes. 
"I have seen all manner of suggestions on the causes of the fire. One of the rumours is that the fire was suicidal due to marital issues. There is nothing like that. The police are on the matter and once investigations are done, we will all know what caused the fire," he added.
He thanked the firefighters for the timely reaction which ensured that the fire did not spread to the house. 
"They only took 15 minutes, and that helped a lot because the fire was fast spreading and it could have been disastrous," noted Nduhiu.
Nduhiu's neighbours' speculations arose from a past incident in Nairobi's Buru Buru estate where a man, Terrence Korir, was found dead inside his car which had been set on fire.
According to investigators, the evidence showed that the driver did not make an attempt to rescue himself while flames engulfed and consumed his body.
A post-mortem report showed that Korir died inside the car after he inhaled a lot of smoke which chief government pathologist Johansen Oduor said there was an indication he took too long before he died. Oduor said Korir's intestines were empty, an indication he had not eaten for some time.
His wife claimed he transferred Ksh 10,000 from her bank without her consent.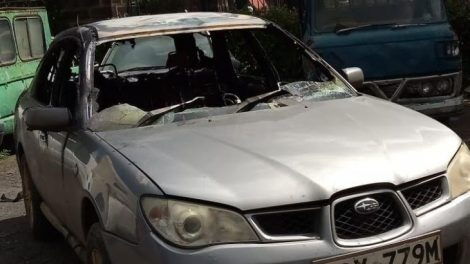 The car in which Terrence Korir was burnt to death at Buruburu Police Station
File