The High Court on Monday, March 1, gave China Railways No 10 Engineering Group Co Ltd the green light to develop a commercial office complex in high-end Karen Estate in Nairobi.
This followed a petition by area residents via Kibwezi MP, Partrick Musimba, who argued that the offices were likely to disturb the peace in the leafy suburb area and hurt property prices, adding that it posed a security risk.
However, Justice Samuel Okong'o dismissed the application, thereby adding Karen to the growing list of Nairobi's most exclusive neighbourhoods that have witnessed a surge of high-rise apartments, and a rapidly changing landscape.
Nairobi's Karen suburb offers the lowest price for an acre of land among high-end estates, with the average price per acre tagged at Ksh 62.1 million in the HassConsult Land Price Index Q4, 2020.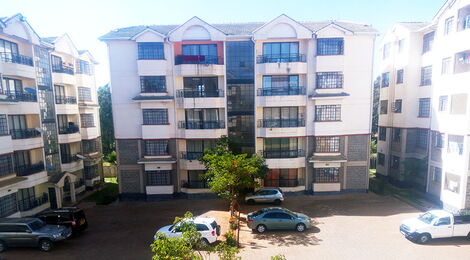 An apartment block in Karen Estate, Nairobi.
File
Residents of these neighbourhoods had long held a strict code when it came to approving buildings based on type, with high-rise buildings outlawed for a long time.
However, City Hall has in recent years opened up Nairobi's top estates like Kileleshwa, Kilimani and Lavington to high-rise office blocks amid opposition from residents.
For decades, areas such as Karen, Gigiri, parts of Runda and Muthaiga, were turned into low-density areas with one family owning a large parcel of land. 
All this has changed due to a rapid population explosion in the Kenyan capital, which placed the city zoning laws under immense pressure.
Consequently, a phase of relaxation of some of these laws, ushered in the rise in high-rise buildings in the posh estates.
A quick drive around these leafy suburbs and one can easily single out a common theme, there are now high-rise buildings in these exclusive areas with new ones cropping up at an alarming rate.
This has seen stagnation in terms of land value in several high-end estates within Nairobi.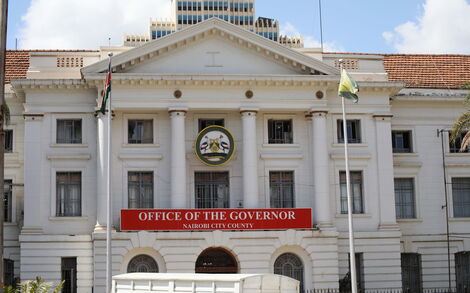 Nairobi County Headquarters at City Hall
Simon Kiragu
According to the HassConsult Land Price Index covering the last quarter of 2020, land value in Nairobi's 18-suburbs remained stagnant between October and December 2020, and fell 2.56 percent over 2020 compared to a 1.69 percent rise in 2019.
The highest annual price falls in land value was experienced in Parklands at 7.35 percent over 2020, followed by Riverside at 7.2 percent.
On the other hand, Nairobi's satellite towns such as Athi River, Juja, Kitengela, Limuru and Mlolongo all registered major spikes in land value over the same period.
On February 6, 2020, members of the Runda Residents Association grabbed national headlines with their vocal objection to the construction of a link road to Kiambu (Kwaheri Road), terming it as illegal and disastrous.
They argued that the road, if allowed to continue, would open Runda to traffic, which is already congested being an estate road that lacks the infrastructure to support the ever-increasing traffic.
Also among their concerns was the conversion of residential areas could easily become an easy target for terrorist attacks.
The Old Muthaiga Estate, known to host some of Kenya's wealthiest individuals, remains one of the few posh neighbourhoods in Nairobi that is yet to face the invasion of high-rise (mixed-use) buildings.
On October 10, 2020, private bikers teamed up and in Muthaiga Estate to protest a decision barring them from using a stretch of road linking Limuru road to the Thika Superhighway.
Members of the police have been stationed at the roundabout exit next to Muthaiga Post Office (Limuru Road), as well as the Thika Superhighway Muthaiga exit from where any trucks, pick-ups, matatus, and motorcycles are denied access to the public road.
The rapid urbanization process being witnessed in the country has seen the commercialization of residential properties in Nairobi spreading at an alarming rate particularly in surrounding residential areas like Upper Hill, Ngong Road, Waiyaki Way, and in neighbouring residential areas like Kilimani, Kileleshwa and Lavington.
In adherence to the new constitutional order and its requirements, the Urban Areas and Cities Act of 2011, was enacted.
According to the Act, planning and development control is to be undertaken by the different rural and urban managers at the different levels of urban and rural governance set out in the Act. 
Analysts argued that the full implementation of the Urban Areas and Cities Act 2011, would raise a lot of controversy as it divests county government functions and allocating them to boards of cities, municipalities, and towns created under the Act.
Kenya's Constitution and Vision 2030, recognizes the need for secure, well governed, competitive, and sustainable urban areas and cities.
This recognition was brought about by the haphazard nature of urban development in the country. 
It is projected that by 2030, half of Kenya's population will be urban making Kenyan one of the rapidly urbanizing countries.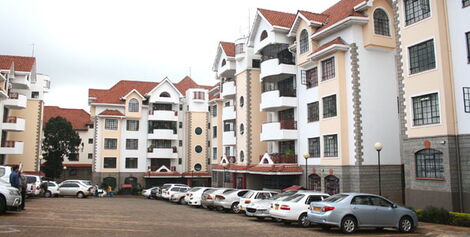 A block of apartments in Nairobi, Kenya.
File