Traders in the popular Gikomba market are living in fear of losing their premises over planned evictions from the area.
The businesses which are located in the Gacucu-Gikomba area are expected to pave way for the expansion of Pumwani Health Centre.
The traders reported seeing people taking measurements of the land which raised suspicions.
The chairman of the traders Francis Mutisya stated that efforts to get assistance from the DCI had not yielded any help.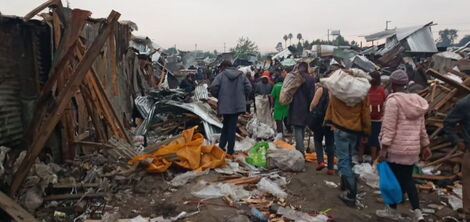 Scenes from the demolition at Gikomba market on July 14, 2020.
Twitter
"We are wondering why we weren't consulted on the plans to bring down our businesses," he stated.
The traders noted that no notice had been given for them to relocate from the area.
Mutisya stated that 6,000 businesses would be affected by the demolitions adding that they would only move when they are shown a different place to set up.
In July 2020, a demolition exercise was carried out in the market with traders waking up to find their stalls demolished. 
The exercise took place weeks after a fire razed houses and businesses in Gikomba market.
Markets in Nairobi have reported incidences of fires. Earlier in November, a fire razed down a section of the Ngara market in Nairobi. 
Fires that have burned down various markets in Nairobi often point to powerful individuals who seek to forcefully evict traders.
Gikomba Market has been a target over the years, with multiple fires, believed to be the work of arsonists, being reported in the area. 
In August, Marikiti traders were left counting losses after a fire destroyed part of the market in Nairobi's Central Business District (CBD).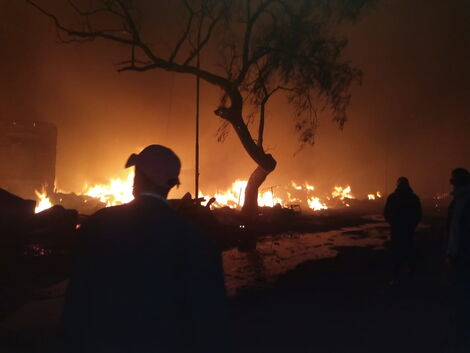 Scenes following the Gikomba Market fire. June 25, 2020.
Twitter