Cities like Nairobi, Mombasa, and Kisumu can be quite expensive given the high standards of living but there are a few towns that have a manageable cost of living. 
Big-city residents are now considering towns where rental prices are almost half of what one would fork out for a similar-sized house in the Kenyan capital, with a 2-bedroom house going as low as Ksh15,000.
The rapid development of infrastructure across the country as well as the relaunch of various commuter trains has made these towns easily accessible.
In most cases, when one is looking for a house, he/she has an eye out for the best value for their money, which also fits into their overall budget.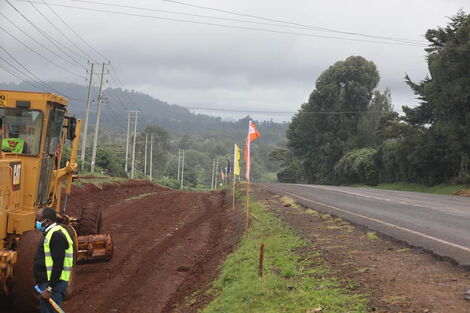 Expansion of the Kenol, Sagana, Nyeri highway.
File
The other thing that people consider is the general security of the area in question. Here is a look at some of the most affordable towns to live in Kenya, based on classified adverts of houses posted by real estate agents across the country.
Eldoret
This is one of the biggest towns in Kenya located in the heart of Rift Valley. 
Eldoret has access to international airports making it a very lucrative and great place to reside in. The rental price for a two-bedroom house ranges between Ksh12,500 – Ksh19,000.
Three days ago, a realtor in the area posted a 2 bedroom house in Kimumu, Eldoret, and tagged Ksh15,000 as the asking price.
They also shared photos of a furnished 2 bedroom house in Moiben, Uasin Gishu going for Ksh39,000.
With large chunks of farmland in the area, food in the town is also relatively cheap. 
Nakuru
This is one of the most affordable towns in Kenya. Statistics show that food or eating out in Nakuru is 43 percent cheaper than in Nairobi. 
A decent two-bedroomed house in a safe neighborhood with all amenities such as water, electricity, and security, can go for as low as Ksh 14,000.
Recently, a 3 bedroom house (own compound) in Mwariki, Nakuru East, was listed with Ksh30,000 tagged as the monthly rental price. A 2 bedroom version of the similar house in Bahati area was priced at Ksh20,000.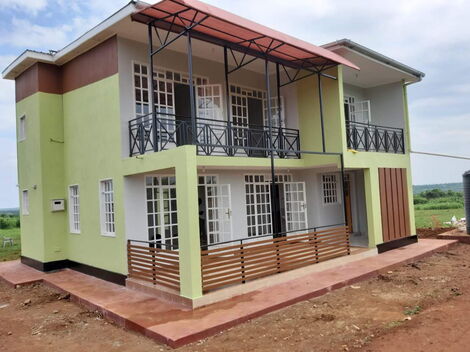 A complete 2-storey prefabricated house
File
Nanyuki
Nanyuki is synonymous with soldiers, coffee houses, and quite an outstanding view of Mt. Kenya. The cost of food is pocket-friendly.
Housing is also affordable depending on location and proximity to social amenities.
A 3 bedroom maisonette (with a compound) is rented out at an average of Ksh 24,000, while a 2 bedroom house's rent ranges between Ksh14,000 – Ksh20,000.
One bedroom houses go for about Ksh12,000.
Kitale
Housing, food, and even transport within this area are affordable compared to other towns in Kenya.
Two-bedroom houses go for as low as Ksh12,000, with a 3 bedroom house in the lush Milimani estate oranging between Ksh25,000 – Ksh28,000.
Kitale is the capital and largest town of Trans-Nzoia County, which is approximately half a day's drive from Nairobi.
Machakos
The dualling of the busy Mombasa Highway has made Machakos town easily accessible to Kenyans working in Nairobi.
Rental prices are cheap compared to the capital city with a two-bedroom house ranging between Ksh17,000 to Ksh20,000.
Interestingly, a 2 bedroom master ensuite apartment within a gated community in Syokimau was recently posted as available to rent with an asking price of Ksh35,000.
Most of Kenya's top retail chain supermarkets have branches within Machakos County.
Real estate in Kenya is currently undergoing a boom and Machakos County is a key player in the retail housing market providing affordable quality housing. 
The county is streamlining building plan approvals to ensure that all development plans submitted are approved within 21 days.
The improving infrastructure has led to better connectivity and a business boom across the various counties.
However, it is also important to note that some of the satellite towns outside the capital city also offer affordable housing
A one-bedroom house in Embakasi ranges from Kshs10,000 to Ksh15,000 while a bedsitter goes ranges from Ksh6,500 to Ksh10,000. 
The area is close to a number of well-known supermarkets and malls.
Rongai also has some of the cheapest houses for rental. A one-bedroom house for rental goes ranges at Ksh14,000
Kenya has a large rental market, with about 84 percent of Kenyans renting houses.
According to the Mercer 2020 Cost of Living Survey, the least expensive city to live in within East Africa is Uganda's capital Kampala, while Kenya's Nairobi, is the most expensive.
Rwanda's capital Kigali is the second least-expensive followed by Tanzania's commercial hub Dar es Salaam,
Global online database Numbeo indicates that the cost of living index in Kampala is 19.63 percent lower than in Nairobi, with house rent on average being 18 percent lower than in Nairobi.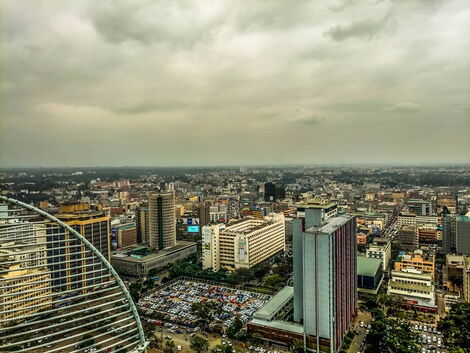 An aerial photo of Nairobi
Eddy Mwanza