The Teachers Service Commission (TSC) has recalled teachers who are on annual leave ahead of the KCSE and KCPE examinations scheduled to kick off later in March 2021.
This, says the commission, will ensure that exam preparations and administration go according to plan and that measures are enforced during the period.
In a circular released by the commission, TSC CEO Nancy Macharia noted that 227,000 teachers would be in charge of the examinations. They will serve as invigilators, supervisors, centre managers and examiners.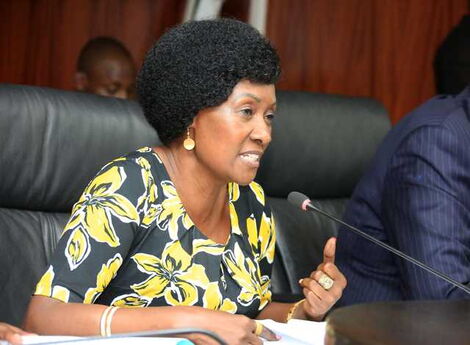 Teachers Service Commission CEO Nancy Macharia addresses the media in January 2020 in Nairobi
File
In what will be the first national examinations since the onset of the Covid-19 pandemic, the commission ensured that the teachers would be hands-on to ensure the process run smoothly.
"The commission has already issued guidelines that emphasize the need for all teachers who will be involved in the examination exercise to comply with all COVID-19 mitigation measures provided by the Ministry of Health," reads part of the statement.
This comes as Education Cabinet Secretary George Magoha called for a crisis meeting with key education stakeholders to set the road map on how the exams would be conducted.
Among the stakeholders include parents, communities, school heads both public and private sector as well as county governments, and Faith-Based Organisations (FBOs).
Magoha assured that the national examination papers for both primary and secondary candidates had been printed and brought into the country.
"I want to assure you that the examinations are ready and in less than four weeks we shall start," he stated on February 25.
1,088,986 candidates are expected to sit for the KCPE exams while 699,745 will sit for the KCSE exams. According to the revised timetable by the Kenya National Examinations Council (KNEC), KCPE exams will begin on March 22nd to March 24th.
In addition, KCSE exams will commence on March 25th running for three weeks and three days.
Further, Magoha urged parents not to pay too much attention to the student assessment results released by KNEC for Grade 1-3 and Grade 5-7. 
The results revealed that students registered a below-average performance across all subjects. Magoha stated that students still needed time to bounce back after a nine-month hiatus due to the pandemic.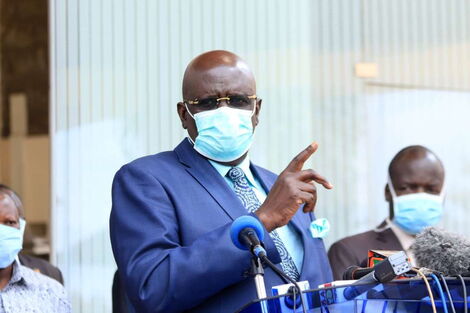 Education CS during a press briefing about the re-opening of teachers training colleges on July, 2020
Twitter