Jubilee Party Secretary-General Raphael Tuju on Monday, April 12, indicated a plausible chance of the ruling party mending bridges with Deputy President William Ruto after the Building Bridges Initiative (BBI) agenda.
Speaking to Kenyans.co.ke, Tuju said that the chance could not be ruled out.
"Perhaps yes, perhaps no, I am loyal but I have a mind of my own. I articulate my views and my positions without fear because I see things differently," Tuju stated.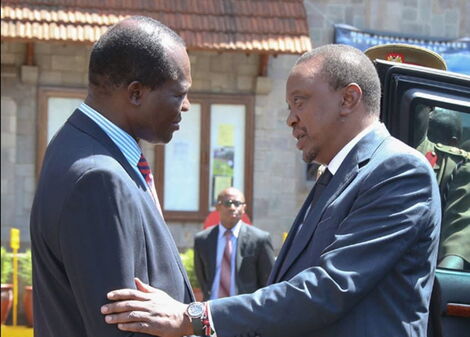 President Uhuru Kenyatta (right) with Jubilee Secretary-General Raphael Tuju (left) at the All Saints Cathedral, Nairobi in October 2015
File
The former journalist further divulged that he and DP Ruto discuss matters concerning politics and other issues freely.
"We don't have a personal relationship problem with Ruto, the only issue that seems to be having a different opinion is in the Building Bridges Initiative (BBI). That's the only area of contention, otherwise, he is still the deputy party leader," Tuju stated.
His comments came amid talk that Ruto was considering an alliance with ODM Leader Raila Odinga. 
The politician downplayed the ruling party's plan to oust Ruto as Deputy party leader. He affirmed that the decision remained at the hands of the National Executive Council (NEC), adding that Ruto remained the Jubilee Deputy Party Leader. 
President Uhuru Kenyatta is expected to chair NEC that would decide whether to kick Ruto out of Jubilee for fronting another party's agenda, the United Democratic Alliance (UDA).
"The NEC itself is the one that can pronounce itself on this issue and I cannot speculate which way the body will decide," Tuju stated.
The division between the ruling party has caused a rift between President Uhuru and his deputy. This has led to purges among the party for members considered to show allegiance to other political parties.
The recent purge saw six nominated senators ousted from the party. Isaac Mwaura, Millicent Omanga,Mary Seneta, Falhada Dekow, Naomi Waqo and Victor Prengei were kicked out for showing disloyalty to the party and advocating for the interests of Ruto's linked party, the United Democratic Party.
Ruto in a recent interview noted that he would opt for the 2022 Presidential seat with a UDA ticket if things did not work out within Jubilee.
"If it gets to a point where they do not want us to be there in Jubilee, then we must have a different plan. You cannot wait to hit a wall. Going forward, if there is no agreement, then we will plan ourselves with UDA. We have built UDA in partnership with Jubilee. It is not us starting afresh. We are just going on with what we already have," Ruto stated.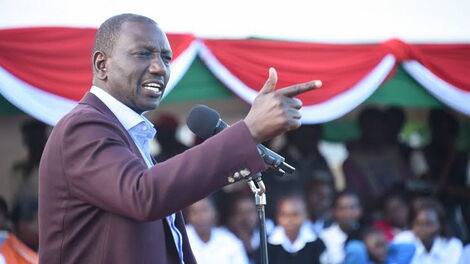 Deputy President William Ruto speaking at a rally in December 2020
Twitter